Our Story

It all started in 2012 when me and my wife Christie began a project to convert a rickety, old deck (located outside of our bedroom) into a physical therapy bedroom for our son Brandon, who was born with a migrational brain abnormality. He uses a wheelchair for mobility, is unable to walk or crawl, is non-verbal, tube-fed, and requires around-the-clock care. Although his challenges are many, he is a happy boy whose smile lights up the world. He is unaware of the difficulties he faces, taking life one day at a time and living purely in the moment - reminding us every day of all that is truly important. A number of friends and family members donated their time and resources to the project, and it took close to a year to complete.
Now comes the very unique part of our story

My wife posted an update of Brandon's room on a popular social media site, which immediately caught the attention of a fellow high school classmate. Via a private message, he offered to donate his artistic talent to paint a custom mural for our son's room. I was personally very apprehensive and skeptical as we are careful to vet any potential guests, prior to inviting them into our home. Because of this, we did not immediately take him up on his offer.
Several months later, however, the mural topic surfaced again. This time I actually took the time to look at postings of his work, which inspired me to agree to meet with him. It took less than sixty seconds for me to do a complete 180 degree turn in regards to my apprehension.
Below is a photo of the finished product.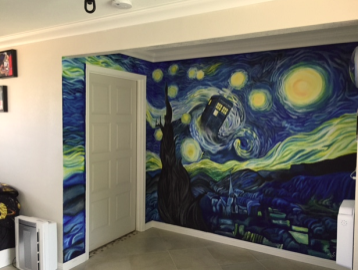 In the following months, a unique bond was formed and we became very close friends. In one of our many one-to-one get-togethers we attended a San Francisco Giants game and had the honor of watching ace pitcher, Tim Lincecum throw a "No-Hitter". When the Giants went on to win the National League Championship, Steve was inspired to create a custom acrylic painting to capture the memory, which he presented to me as a gift. I was so touched and impressed with his work, that several months later I proposed a business opportunity to him.
Both Christie and I have engaged in a 4 year exclusive contract with Mr. Steven Koelling, to commission 132 original 4' x 5' paintings, recognizing the memorable players in all four major sports - the National Football League, Major League Baseball, the National Basketball Association and the National Hockey League. In addition, we have commissioned 300 individual player and coach portraits.
We founded our company with one key Core Value: Givers Gain. With every Limited Edition Print sold, we will donate 15% to local, regional and national charities. We are so serious about giving back, that you cannot complete your order unless you have selected a charity.
With that said, we hope you join us over next four years on our journey, as we know it will be an exciting ride.
Sincerely,
Bill Lopez
(and affectionately Christie and Brandon)